Palm Health Foundation is leveraging our role as collaborator, convener and leader of innovative solutions for better health during the COVID-19 pandemic. The foundation is working with local partners to organize relief and response efforts for our community.
Our efforts are largely informed by story collection and how communities make sense of the stories they experience everyday. The foundation, along with other local partners, is inviting Palm Beach County residents to share their experiences during this time of uncertainty through SenseMaker, an online story collection tool. The stories are analyzed to inform how the foundation and other agencies will provide future assistance to the community.
When residents of Palm Beach County first began sharing their stories in 2018 as part of the We Are Here project, they gathered in person to review them. The stories were printed and posted on the walls of the workshop. This allowed participants to view them as part of a "gallery walk." Rather than reading every story, they could explore themes and patterns evident in the stories and zoom in on stories that captured their attention.

With the onset of the coronavirus pandemic, residents and local leaders needed a new vehicle for sharing the voices of the community. Collective sensemaking went virtual.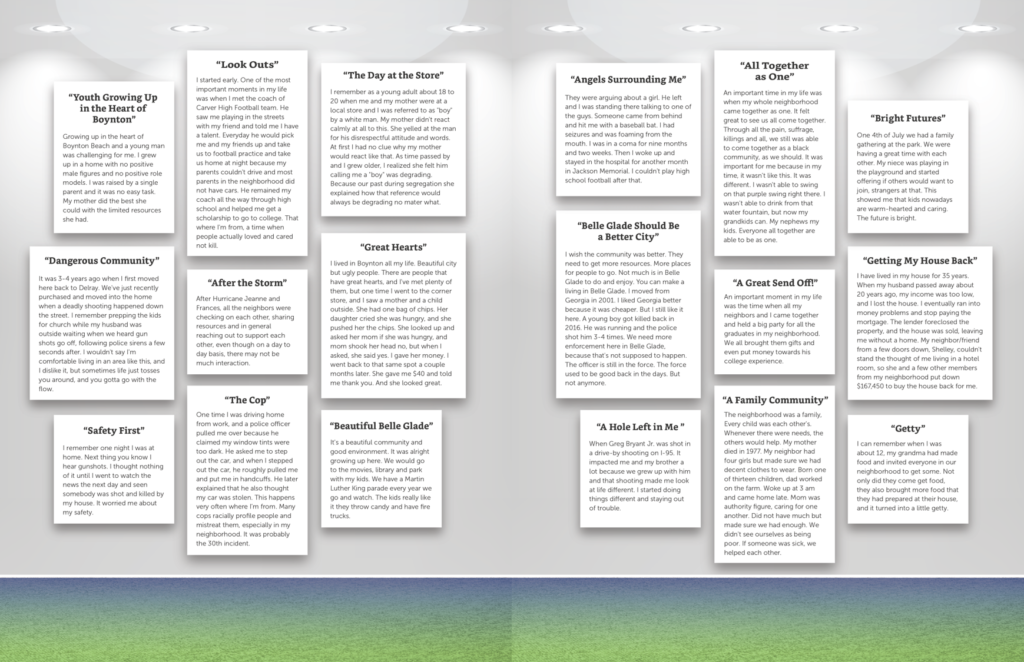 PHFshares.org began as a page of SenseMaker stories presented in a gallery format. Data visuals revealing how stories were interpreted by residents allow the qualitative story content to be explored alongside quantitative data. Summaries of community sensemaking sessions were added to share how residents reflect on the stories and innovate solutions, and as the impact of the Neighbors Helping Neighbors fund sparked local news stories, a news section was added. The site later expanded to include additional SenseMaker projects.
Today, PHFshares.org is designed to engage community residents, including local leaders and decision makers, in sharing their voice and taking action to support the health and well-being of their communities.
Please note that consent was provided for all stories displayed in this site.