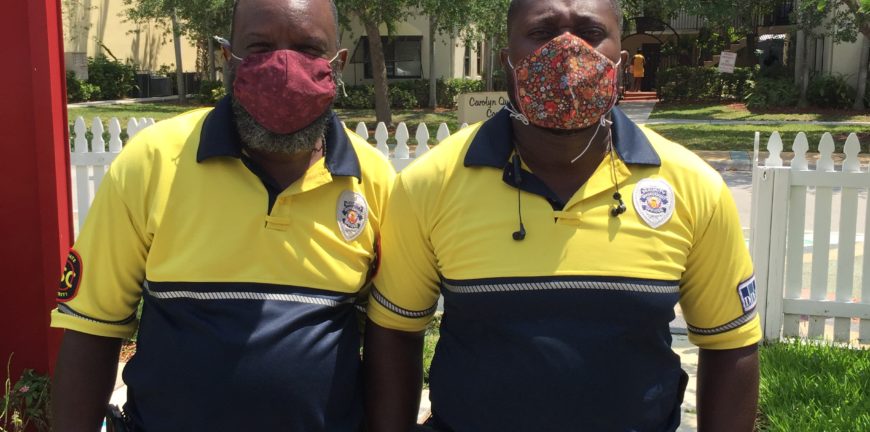 Posted on July 17, 2020 | Reprinted from The Spady Museum Cultural Heritage Museum website
Stories of COVID-19 experiences hang on a wall of a Delray Beach museum, as part of a gallery comprised of different perspectives on the pandemic. In the exhibit, each story lends a different view from a Palm Beach County resident, but the common denominators are the same – survival and hope.
Five leaders from local nonprofit world talked about what this exhibit means to them and why it's important.
The entire gallery of Covid-19 stories can be accessed at http://phfshares.org/
Andy McAusland of Palm Healthcare Foundation, Khaluah Naima Nuruddin of The Spady Cultural Heritage Museum, Kenya Madison of Healthier Delray Beach (a Palm Healthcare Foundation initiative), Emanuel Dupree Jackson of the EJS Project, and Charlene Farrington of The Spady Museum are featured in the recording.
BACKGROUND: Palm Healthcare Foundation spearheaded research to track the impact of the COVID-19 pandemic on the lives of citizens. Palm Health Foundation's Healthier Together communities, BeWellPBC, Pathways 2 Prosperity and the EJS Project collected personal stories from county residents—over 700 to-date—about how the outbreak and community interventions are affecting residents and taking immediate action to help individuals who share a story of personal crisis. Realizing the historical significance of the project, the Spady Cultural Heritage Museum and EJS Project developed the idea to create a virtual gallery exhibit to share the community's collective experience.
A portion of the stories are featured within the Spady Museum's galleries and others were read aloud by students of the Milagro Center and can be heard here at the Spady Museum website.
The entire COVID-19 gallery can be accessed at http://phfshares.org/. Visitors are encouraged to donate to the Palm Health Foundation Neighbors Helping Neighbors Fund, which is being matched dollar-for-dollar by the foundation up to $200,000 to assist the community's most vulnerable residents. This fund puts small grants directly into the hands of residents who are struggling to pay their rent, access food, receive medical treatment and more. This fund will aid in efforts to help our neighbors recover, rebuild and plan for the future.
The Spady Cultural Heritage Museum is the only museum of its kind in Palm Beach County. Located at 170 NW Fifth Avenue in Delray Beach, it is dedicated to showcasing the African-, Haitian- and Caribbean-American cultural contributions to the artistic landscape of Florida and the U.S. Hours: 11 a.m. – 4 p.m., Monday-Friday; Saturday by appointment. Closed Sundays. Admission: $10; Members are free. For more information, call 561-279-8883 or visit www.spadymuseum.com